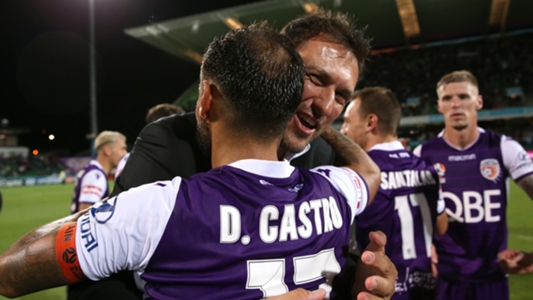 At the age of 36, Diego Castro was close to retirement before recommitting to Perth Glory this season – a campaign that's since seen the Spaniard sign a rather surprising two-year contract extension with the club on the cusp of grand-final success.
The arrival of Tony Popovic has been key in that turnaround with Castro used sparingly at times to ensure the midfielder can step up when needed.
While that strategy has seen Castro score nine goals and pick up five assists across 21 appearances this season, he admits the initial lack of minutes was frustrating but he can now see the wisdom behind the decision. 
"I was angry with the boss when he would not play me but now when I look back I need to say he was the smart one," Castro said.
"He analysed the big picture to make me fit to play and now here I am. My body is better than ever.
"I feel fantastic. I've been running just to reach this final."
Popovic's Glory squad has boasted real depth this season with no player, aside from keeper Liam Reddy, guaranteed a starting spot each week. 
Castro adamant that such depth has made Perth's players more selfless and focused on team rather than individual success. 
"The talent and quality we have, sometimes you need to sacrifice and concede things on the field for another player, another mate, to make the team better," he said.
"When you can accept that, listen to the coach, then the team steps up.
"Everybody wants to be in contact with the ball as much as you can, but when the coach is working in a direction you need to follow that direction."
Glory and Castro will be out to end their resurgent season on a high when they host Sydney FC in the grand final on Sunday. 
https://www.goal.com/en/news/i-was-angry-how-popovic-got-the-best-out-of-castro/66gtdvd97tdx1bq2q391jj6ls