President
Museveni, who is the Commander in Chief of the armed forces has made a number
of changes in the Uganda People's Defence Forces.
The changes
announced on Friday night saw Maj.Gen.Fred Ociti Tolit transferred from Burundi
to South Africa as a defence advisor,
Maj.Gen.Tolit has served in various
capacities as Director of Military Intelligence, from 1993 until 1998, Chief
of Operations and Training in UPDF – 1998, Commander of the 2nd Infantry
Division, between 2000 and 2001 and also as a Defence Attaché to
Uganda's permanent mission to the United
Nations headquarters in New
York.
In 2012 up to 2013
he served as  Chairman of the General
Court Martial of the UPDF and among the cases he handled included one for
Lt.Gen Henry Tumukunde who was then at the rank of Brigadier.
The army court
chaired by Brig.Tolit sentenced Brig.Tumukunde to a severe reprimand after being found
guilty of conduct prejudicial to good conduct and discipline of the army.
The new changes in the army have also seen Brig Paul Lokech who has just completed his year of duty in Somalia as the UPDF contingent commander appointed to head the Uganda Rapid Deployment Capability Centre (URDCC) in Jinja.
Nicknamed 'the
Lion of Mogadishu' by Somalis, Brig.Lokech has recently served as Uganda's Defence
 Attache in Russia before being appointed
the commander of the UPDF second division in Mbarara from where he returned to
Somalia for his second spell that ended last month.
Between 2011 and 2012, Lokech was the contingent
commander for the UPDF AMISOM and commander of battle groups eight and nine.
In one of the fiercest battles, in 2011, the Al Shabaab
militants were expelled from Bakara market, which was one of the insurgents'
strongholds in Mogadishu while he was in charge of the Ugandan contingent that
broke the insurgents back, earning him the name of 'the Lion of Mogadishu' from
the locals.
Speaking to Nile Post recently,
Brig.Lokech reminisced his tenure between 2011 and 2012 as not being easy as
the Al Shabaab insurgents were raring to go.
"While leaving for the mission, ours was a counter insurgency
but reaching here, we had to adapt to the situation on ground. We had to take the
war to the enemy,"Lokech said.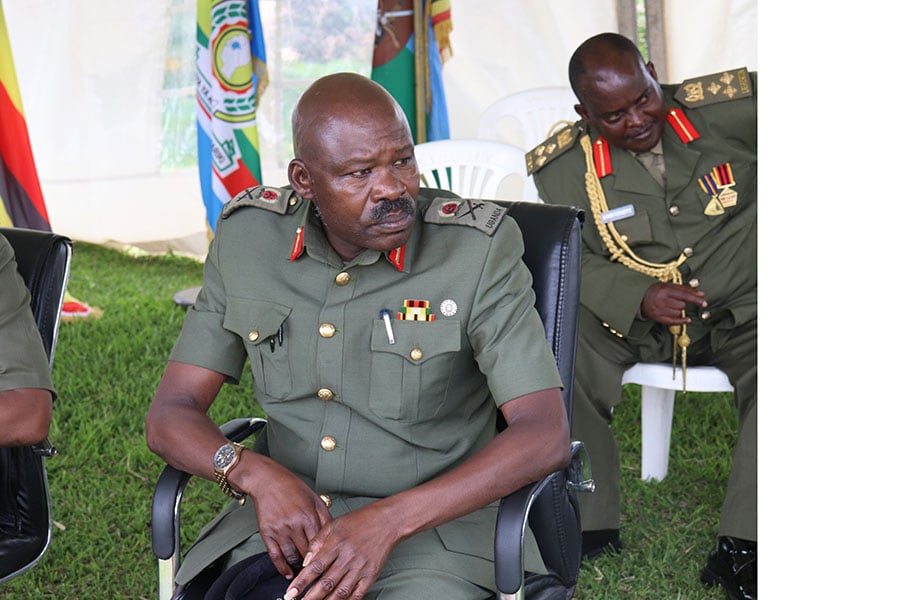 "We had to first take room by room, house by house and then street by street to be able to manage the enemy. "By September 2011, we liberated Bakara market and Al Shabaab had no option but to flee. That time the tactics they (Al Shabaab) had were conventional, we moved onto them and we succeeded. They made a blunder and made an attack at us at Afgooye and we beat them. We gave them a bloody nose."
Birg.Lokech will
now be replacing Maj Gen Nakibus Lakara AMISOM Force Headquarters as the Deputy
Force Commander in charge of Operations whereas Brig George Etyang has been transferred
from South Africa to the National Counter terrorism Centre.
Brig.
Dominic Twesigomwe has been transferred from the  Chieftaincy of Integrated Resource Management Information
System  to South Sudan as a Defence
Attache  whereas former Military police
commander and has been serving as the Fourth Division commander, Brig Emanuel
Kanyesigye has been sent to Burundi as  a
Defence Attache.
The new
changes have also seen Brig Christopher Kiyingi Bossa sent as the new
commandant at Bihanga Training Centre from the College of Logistics.
Brig James
Nambale from Camp Commandant is now the new Defence Attache to Russia whereas Brig
Baguma Mugume from the National Defence College in India has been sent to Chieftaincy
of Integrated Resource Management Information System.
Brig Metland
Bitumbika who has been the Chief of Pensions and Gratuity is now the Military
Advisor at Uganda's Permanent Mission to UN in New York.
Col Bob
Ojiki has been transferred from Kimaka and appointed the Commandant Junior
Staff College in Jinja whereas Col Bonny Bamwiseki been transferred from the
UPDF first division in Kakiri and appointed fourth Division commander in Gulu.
Col
Ssenkumba Ssebugwawo from Land Forces Headquarters in Bombo has appointed
Director Personnel Col Michael Kibuye from CMI headquarters is now Adjutant –
Camp Commandant.
The new
changes have seen Maj. David Watasa transferred from Military Police and appointed
Chief Instructor at Junior Command &Staff College.
Views: 55
http://nilepost.co.ug/2018/12/22/several-updf-commanders-transferred-in-new-army-changes/